Long Pilgrimage: The Life and Teaching of the Shivapuri Baba By J. G. Bennett in collaboration with Thakur Lal Manandhar 3rd ed. 2006. Published by Giridhar Lal Manandhar, Kathmandu, Nepal, ISBN -99946-956-7-3.
Long Pilgrimage authored by J. G. Bennett in collaboration with Thakur Lal Manandhar, a close disciple of Shivapuri Baba is the book about which I came to know from Osho's Books I Have Loved. Osho has put this book in the inventory of his favourite books that are also essential for a spiritual Sadhak. The book 'was first published' in Great Britain by Hodder and Stoughton in 1965, and recently in 2006 it is republished by Sri Giridhar Lal Manandhar who is the noble son of a great father Giridhar Lal Manandhar, the co author of the book. J. G. Bennett, the author of the book was an inquisitive soul who introduced G. I. Gurdjieff to the entire world and was also in touch with P.D. Ouspensky. Bennett also deserves the honour of writing the first book on the life and teachings of the great, yet less known (in India) saint H. H. Shivapuri Babaji.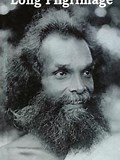 The present reprint of the book is the fulfillment of the 'unfulfilled wish' of the co-author Thakur Lal Manandhar which is being materialized by an obedient son Giridhar Lal Manandhar from Nepal where in Shivapuri, Shivapuri Baba, the great saint lived over 40 years and later departed from the mortal world at the great age of 137. Shivapuri Baba who was also known as Sri Govindanandana Bharti, took birth in the 1826 in a Brahmin family in the state of Kerala. He, 'at the age of eighteen that is, in 1844' decided to abandon the world entitling his twin sister to inherit their paternal property. Later, in the following years he made a world tour mostly on foot and he was also in touch of many luminaries of his time like B. G. Tilak (whom he 'taught' 'some Astronomy', Sri Ramakrishan (who was eight years younger than himself), Sri Aurobindo (whose teachings are much similar the teachings of Shivapuri Baba). He was also a very close to queen Victoria and had eighteen personal visits to her palace. The saint reprimanded George Bernard Shaw who professed contempt of Indian Yogis and said to Govindanandana: "You Indian saints are the most useless of men, you have no respect for time". But the immediate reply of the Shivapuri Baba made him speechless by saying: "It is you who are the slaves of time. I live in eternity". (26)
Shivapuri Baba was also a man who donated fifty thousand rupees for funding the Banaras Hindu University. 'He was even offered the chancellorship but he had to reject this offer for being a Sannyasin' (28). Shivapuri Baba left this mortal body in 1963 when he 'rose up from his bed, took a drink of water and said:
"Live Right Life, Worship God. That is all Nothing more" and spoke last words in Hindi, "Gaya" (I am gone).
This enlightened soul is the immortal icon of Indian spiritual wisdom remained reluctant till the last breath of his long life and he even refused Bennett to disclose anything about his life. He denied relating his story of life and said: "That has no importance: you should write about my teachings, not about me" (30). Baba stayed in Shivapuri after a long pilgrimage of the world finally where a full grown leopard used to come to sit beside Baba. The book is full of both the miraculous encounters of Baba's devotees with Baba along with his nectarine and divine messages and teachings that Baba gave to his disciples in the past. One striking teaching deserves mention here that he imparted one of disciples in the answer of the question how one could strengthen one's spiritual life. He said:
"Man has three duties:
Physical duty- the obligations he was born to; earning a living, acquitting himself and his talents in the world, looking after his dependents and so on.
Moral duty- to be aware of the obligation towards oneself to seek the Truth for twenty four hours of the day.
Spiritual duty- worship of God but this we will appreciate only later. Attention to the first two duties- taken very simply, will take us far along the way".
"In one decade a man who attends to the first two duties will be able to clean his mind and ask only for Truth and the Way of God.' (49)
According to Bennett, Shivapuri Baba's 'entire teaching' can be summed in the words: right life'. (61) Baba defines right life as 'it is the life with some definite aim. It is a planned and discriminated life with duties necessary and helpful for achieving the aim in the shortest and possible time' (61) to Baba, the greatest aim of life is 'to see truth' (61) but for the realization of the truth there is no need to give up life. Baba said:'… giving up life does not mean merely going to a forest or a cave. Even Buddha, after realizing Truth, said that it is not necessary to do that. One can realize Truth even at have if one lives the Right Life". (62)
The book is enveloped with the divine teachings of Baba that are indispensable for a spiritual seeker as well as a common man. Baba always emphasized on the purity of mind and soul which is developed through constant Sadhna and Swadhyay. He even said that study of the Ramayana and Mahabharata is for cultivating morality and dexterous intellect. In one of his conversation with Bennett's wife Elizabeth in 1961, Baba replied her when she asked as to how to bring children up to have faith in a world that does not believe, Baba said: "You can not teach faith. Faith comes from God. You must teach them discrimination. From discrimination, faith will come by itself." (103)
Baba has never been the one who advocated negation or any escapist outlook of life rather he was the one who forced the mankind to intensify their longings for God and not going to any Jungle but experience that beatific vision through Karma and rigorous Sadhna. Baba summarizes his own teachings at the last of the present book when he says to Bennett:
"The sum and substance of my teaching is this: live the minimum life possible, subjecting body and mind to strict discipline. Again, how a very hungry man longs for meat, how a man suffering from intense cold longs for heat, so long for God, meditate on Him continuously. And this is the sum and substance of my teaching. That is for you, that is for them that are for the whole world. It is by this that I saw the Truth, and I am happy. Yes" (176).
This book is a both a fantastic biography of a fantastic soul and a comprehensive compendium of Shivapuri Baba's teachings that are for all persons of all times. We should thankful to Sri Giridhar Lal Manandhar who brought this immortal gem to light so that we may obtain bliss from the perusal of the book. The book carries beautiful black and white snaps of the Shivapuri Baba and J.G. Bennett and thus proves to be a fantastic possession of each reader of spiritual taste.
https://shaleensingh.in/wp-content/uploads/2020/06/LOGO_2-1-300x45.png
0
0
shaleen999
https://shaleensingh.in/wp-content/uploads/2020/06/LOGO_2-1-300x45.png
shaleen999
2020-05-28 18:45:39
2020-06-02 18:14:31
Long Pilgrimage: The Life and Teaching of the Shivapuri Baba By J. G. Bennett in collaboration with Thakur Lal Manandhar 3rd ed. 2006. Published by Giridhar Lal Manandhar, Kathmandu, Nepal, ISBN -99946-956-7-3.